We are pleased to announce the January, 2009 Performancing Theme release: Too Newsy. The Too Newsy Performancing Theme for WordPress is a three-column WordPress theme that uses minimal images and earthy colors, contributing to a touch of elegance.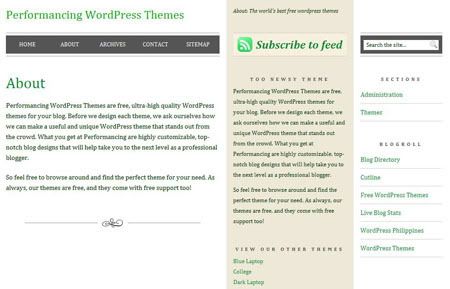 The theme features widget-ready sidebars, which can accommodate several different image dimensions (suitable for button and banner ads). The theme also supports the default CSS alignment and caption classes in WordPress 2.6 and above, and it is the first Performancing Theme to support new WordPress 2.7 features out of the box:
Threaded and paginated comments
Post classes
Image captions and gallery classes
Another highlight of Too Newsy is the use of the sidebar for snippets of the latest posts in a pre-defined category (which is by default the "features" category). This can be useful for bloggers who wish to highlight certain posts, such that they are not pushed down too soon by newer ones. The theme also supports gravatars out of the box.
Too Newsy is another collaboration with Splashpress Media designer Sophia Lucero, who previosuly brought us the Rubidious Theme, and various other Splashpress Media blog designs.
Download Too Newsy Theme
The download file is in two versions. One for WordPress 2.7, and another for previous versions (though I cannot guarantee that it will work for WordPress versions older than 2.5).