CSV 2 POST Plus is a brand new premium CSV Import wordpress plugin,  This plugin gives you the power of importing csv data including affiliate feeds into your WordPress blog easier and quicker than any other csv to post plugin or script! Each row of data is used to publish a new post meaning that we now have the potential to convert hundreds, thousands or maybe even 1 million rows of data into blog posts.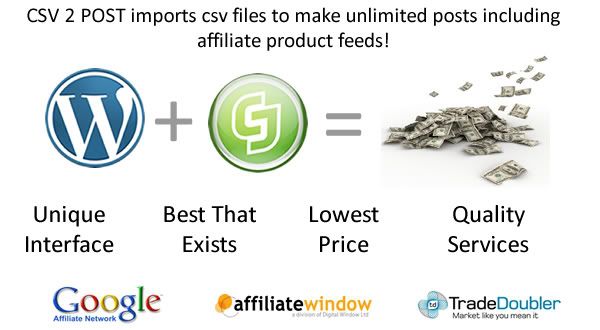 This includes old backups of WordPress blogs, company data, email archives, affiliate feeds and any other data. This plugin delivers far more ease than any other csv import tool and is under constant development to ensure that it pushes competition aside.
CSV 2 POST Import Functions:
These functions apply to all paid editions of my import csv plugin (free edition available on wordpress plugin directory) no matter what package you purchase. Specifications on CSV 2 POST PREMIUM can be found further down the page.
Create new blogs in a few hours with over 100,000 products and pages.
Create a thousand new posts in minutes with maximum SEO.
Works in any version of WordPress including MU.
Request upgrades and customisation for free!
No programming skills required to use this plugin.
Works great on ClassiPress blogs and all other themes too.
Insert images and links to your posts (soon videos and google maps!).
Create, configure and manage import campaigns.
Import any quality csv file data including affiliate feeds.
SEO plugins supported and being improved to help beat the rest!
Use a custom post name/url/slug to maintain existing url structures.
Also use a custom data column to make post dates different.
Automatic category creation of up to 4 levels of parent and child categories.
Automatically create custom fields using all your data.
No need to edit csv file to make it work with csv 2 post.
Optional automatic meta data including keywords and description.
Supports automatic creation of tags.
Everything apart from customising done via interface.
Selection of full import, staggered or scheduled using wordpress cron.
Upload csv file using plugin or by ftp and linking it.
Fully customisable post layouts in PHP.
Customise your own data manipulation using custom layout file.
Select any delimiter per campaign.
Custom date ability so you don't need to use the default post date.
Easy to read tooltips for better usability.
Intelligent interface for pairing columns to parts of your post.
Select Publish, Pending or Draft for your new posts.
Campaign management reports import status, posts created and settings.
Debuggin mode in settings for extra support.
Choose your own wordpress action/trigger for staggered processing.
Enter how many posts to be created per hit on your blog.
Select default publisher ID in the settings page.
Enter a maximum execution time for staggered mode.
Switch automatic keyword, description and tag creation on or off.
Enter maximum length of your string of tags.
Disallow or allow numeric tags.
Select a default category parent for new categories for a 4th level.
CSV 2 POST Paid Editions Functions:
Request unique customisation that suits your exact needs and have it done asap, confirm with me first before purchase.
10% discount of all other WebTechGlobal plugins and services in future, there are some that you will like if you like this one.
Compatable With…
Visit the ShopperPress website
VIP Plugin CSV 2 POST Pro  –You use the menus below to add extra services to your purchase and ensure you received priority support.   
Price: £99.99  
Download CSV 2 POST Plugin free basic Access –>