A news about RichBIZ Theme Update! RichBiz is a business style of WordPress premium Theme from RichWP. The RichBiz theme allows you present your products and services in style and keep your customers updated. this theme lets you build your small business website within minutes.
Whether you want to change the colors, the fonts or modify the content of the front page – it's all possible, and incredibly easy! RichBiz theme is time to spread the word about your business endeavours.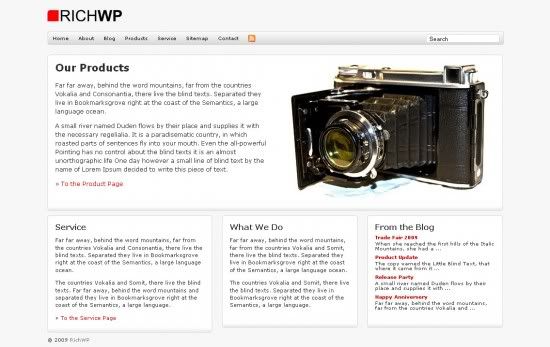 RichBiz Theme Mean Features:
Easy installation and setup – A comprehensive PDF and video tutorials to visualize certain topics help you get the most out of the BIZ theme.
RichWP is famous for one-on-one, easily available, fast reacting support. I do not take your money and run.
Theme Options Page (customize the theme exactly to your needs):

Full or fixed width layout
Insert a logo
Define fonts and font sizes
Change colors and design elements
Control your advertising
Exclude pages from navigation bar
Use chicklets/icons in the navigation bar
Control second navigation bar in footer
Insert feedburner link and statistic tracking code
Edit copyright notice and comment rules
… and many more!
Page Templates:

Full size page without sidebar
Archive (create an automatically updated sitemap)
Full photo gallery functionality (Album List, Photo List, Photo Detail with and without comments)
Subpage Overview Template
High quality auto-resizing of images throughout the theme
Widget ready
Threaded comments support
Gravatar support for comments
Compatible up to the latest version – WP 2.8.4
Works in all the latest major browsers: Firefox V2.5 and up; IE6, IE7, IE8; Chrome; Safari
Price:
RichBiz Them Package: $69.90
RichWP Themes Package: $249 (all current and future themes)
Demo | Download RichWP RichBiz WordPress Theme
Rich Biz wordpress theme is here, demo it now, buy it with our RichWP Discount Code, help you save 25%off of Richwp RichBiz theme.