A potential program that can help a blogger make money online is LinkWorth. A marketing portal for both advertisers and publishers, LinkWorth offers various products and services, including text link ads, in-text links, banner ads, pay-per-click ads and paid blog reviews. There are plenty of opportunities available when you become a Link Worth partner.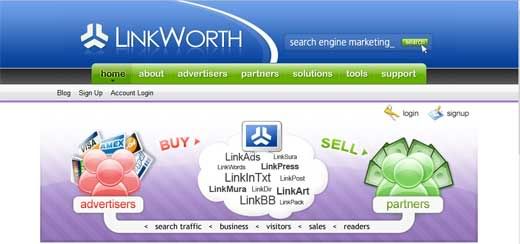 To take advantage of these opportunities, you must first sign up and submit your site for approval. The requirements for signing up with LinkWorth is that you must have a complete, working blog or website with relevant content and not use framesets, flash or redirect URLs.
LinkWorth does review your blog before approve your application. But it does not require a lot of qualifications. Not like Text-Link-Ads, LinkWorth does not require your blog with high Alexa rank, good Google PageRank, and RSS subscribers.
An interesting fact about Link Worth is you are given the option to choose how much of your revenue goes to LinkWorth. You can choose to split your revenue either 70/30 or 50/50. If you choose payment option 50/50, you become a "Preferred Partner" and Link Worth will help sell ad spaces for you.
At LinkWorth, payments are made monthly on the 10th of each month. You can choose to use PayPal, business checks, Bank to Bank wire transfers (non US banks) or direct deposits (US banks only). The minimum payout amount for PayPal is $25. That means you can get the real cash into your PayPal account after 3 month if you only sell one $15 text link. In consideration of the new blog's small traffic, the income is not bad. If you can sell more ads out, of course you will make more money from it and the result will become better. It also have paid to Review.
Therefore if you are a new blogger and want to monetize you blog, try LinkWorth first. If you already have a blog with good traffic and good search engine results page(SERP), you can make a decent amount of money from LinkWorth, because the price for your links will be much higher.
Aside from their many products, Link Worth also provides a few free and useful features for publishers. For example, you can use a Meta Tag Generator to optimize your site and other tools such as Keyword Density Analyzer, Site Link Analyzer and Search Engine Marketing. There is also a Price Quote tool to help you determine how much you should charge for an ad. You can also opt to purchase their directory submission service and have your website submitted to popular directories.
Sign up Linkworth and start to make money!
I created the account for LinkWorth and other Text-Link-Ads progams, the same as LinkAdage , Backlinks, AuthorityBacklinks . they are all can make money for you! 
Last but not least, aside from their wide array of products and services, LinkWorth also provides a great customer support that is quick to answer any questions you have. In short, Link Worth is sure to help a regular blogger like you and me make money online without too much hassle. Added, Marketer use LinkWorth do Search Engine Marketing, Reg it with LinkWorth Coupon Code, you will save money on Advertising Plan.
LinkWorth Coupon Code: 20LINK, save 20% off!
Use this Linkworth coupon, you can get a 20% discount on any conference pass. If you already have your pass, apologies for being late.