Hybrid News is what I hope to be the answer to many of your needs. It was developed to be a purely news theme. Nope, it's not a blog theme. Not a photoblog theme. It's not for your company brochure. It is about news. If you have a news site that needs a new look, layout, or change in functionality, this might just be the theme for you.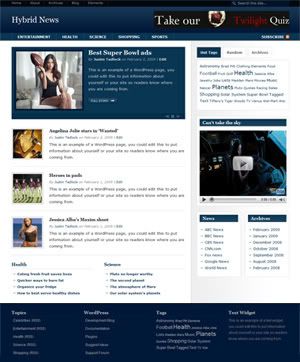 What's all the fuss about?
Hybrid News comes with a total of 10 widget sections for your use, which will all integrate seamlessly within the theme. You have control of your content. You decide what goes where.
It also comes with an additional page template aptly titled Front Page, which has a featured post slider, excerpts section, and headlines section. You get to choose what posts are shown and how many posts are shown. Plus, no posts will repeat themselves, which has been a problem with some themes here before.
There's also the sweet four-level drop-down menu, which can easily be modified to accommodate even more levels.
So, the fuss is all about a cool news theme that you should definitely be using.
Get the theme
Hybrid News was developed for WordPress 2.7+. I have not tested it on earlier versions. It is also a child theme of Hybrid, so you must have it installed to use Hybrid News.