If you own and mange more than one website, and you are want to can save you a lot of time and help you earn more from your site network. You can use a remote management software manage your CMS Sites.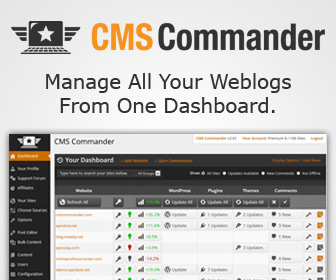 I sure you must know the Manage WP, allows you Manage WordPress Sites from One Dashboard, include Access, manage, update, and backup all your WordPress sites, but which is only magage WordPress blogs. And great news for everyone, The creator of the WP Robot autoblogging plugin – Thomas Hoefter has created a platform called CMS commander to make it easy for webmasters to have a central dashboard to manage sites that are WordPress (of course) but also sites created in Joomla, Drupal and phpBB.
CMS Commander is a remote management software for WordPress, Drupal, Joomla and phpBB websites. Simply add all your websites to your CMS Commander account and then contrl them all through a secure SSL connection.
With CMS Commander you can manage and control all your websites from a single control panel, no matter what content management system (CMS) they are built with. If you own or manage multiple websites you know how tedious it can be to log into all their admin panel every day just to do some repetitive or mundane tasks – with CMS Commander that is not necessary!
Besides allowing you to remotely manage all your WordPress, Drupal, Joomla and phpBB websites from one place CMS Commander also includes powerful affiliate content generation capabilities and autoposting features. Direct targeted content insertion into the articles you write, bulk article posting, PLR and CSV import and more can assist you in producing fresh content for your sites and help you monetize them better than ever before.
Sign up for your free CMS Commander account now!
CMS Commander Will Help You Save Time And Earn More! And the key features:
Manage your sites – check comments, add content
Clone – your website including the data, content, plugins and settings in a flash.
Update – plugins and themes across all your sites using the handy Bulk Actions feature
Backup – each site and restore it if needed
Add Content – if you are a WP Robot user then you will love the integration
making it easy to add content across all your sites
Stats – Thomas is adding in integration for Google Analytics statistics
The purpose of CMS Commander is to make the day-to-day management of multiple websites easier and save the user time by automating repetitive processes and completing them in bulk on several domains.
Your CMS Commander Discount coupon price is giving on! Interested visitors can sign up for a free account on cmscommander.com in order to test CMS Commander for an unlimited time. Said discount reduces all monthly prices by over 20% for you and is a lifetime rebate!
Subscribe CMS Commander and claim your lower price now!