Today night, I get a announce of from StudioPress ,that the Lifestyle 4.0 theme is now available.  The means Lifestyle Theme Upate to Version 4.0 , Do you know the Lifestyle theme.  Looke here: 10 Great Professional Business WordPress Themes!
Here is a Pic of Lifestyle WordPress Theme version: 3.0.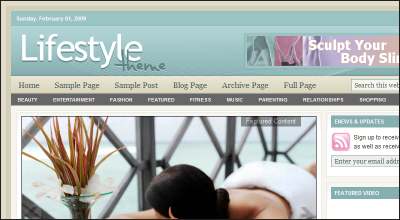 Now, The Latest version is :4.0
Release date: 6/29/09
Lifestyle Theme Upate to Version 4.0
Because of the amount of optimizations/changes to the theme files, it will require you to load the new version.
For those of you who have already purchased the Lifestyle theme package, you can download the latest copy in the Theme Download thread in the support forums. All others can purchase the Lifestyle theme package here.
Lifestyle 4.0 theme News :
Here's a screenshot of how the new Lifestyle theme options looks: lifestyle-40-options.png.
New Theme Options
We are also very happy to announce that a new options page has been built for the Lifestyle theme which is more efficient and includes additional options.
Auto-Sized Thumbnails
Another awesome feature with this version of Lifestyle is the ability to now display automatically generated thumbnails on the homepage. You can see that the sizes of your thumbnails can be configured on the options page.
Support For Localization
Another awesome feature that is included with the Streamline theme is support for localization. We have been asked numerous times if our themes can be localized, and we are going to make sure that all of them can be internationalized into different languages.
Sidebar eNews & Updates
In previous versions of the Lifestyle theme, we required the use of a text widget to display the Google/Feedburner eNews & Updates section. We felt that was a bit clunky, so we've now included the ability to enable/disable that section from within the dashboard, and provide a box for you to place your Feed ID.
Lifestyle Theme Package Price $59.95 !Click here to view more details
Pro Plus All-Theme Package  Price $199.95 !Click here to view more details