The Aerotronic Professional WordPress Theme is a totally new and outstanding approach to Magazine Style Themes. Everything is possible – if you want to have it. You can activate lots of functions like automatic front page thumbnails (I never liked the time-consuming Custom Fields – you don't need them anymore), Author Gravatars, Videos, Welcome Message or lots of different Ad positions. Setup is VERY easy and time-saving, even for WordPress Beginners. We'll help you out anyway in the support forums.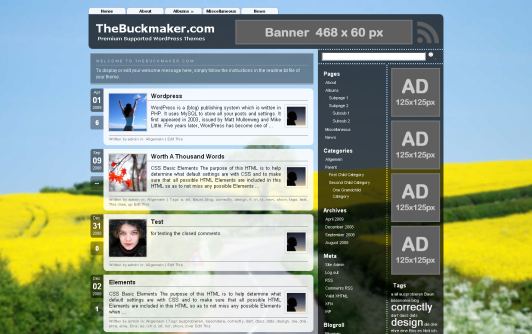 A list of features:
New Magazine Style Layout
A Million Ways and Styles: Totally change experience and impression of your Website by simply changing the Background Image
Custom Background Image Switcher
9 different Backgrounds – or USE YOUR OWN BACKGROUND
Easy Theme Setup
Easy Video and Ad Implementation
Optional Welcome Message
Optional Author Gravatars for Multi-Author Blogs
Transparency and Rounded Corners
Tested in all common browsers
Valid XHTML and CSS
SEO optimized, clean code
Full WordPress 2.7 support including beautiful comment section, threaded and nested comments, sticky posts
Beautiful + fading page/childpage menu
Footer Backlink Removal allowed
Full Plugin Support
Professional Customer Support
TheBuckmaker exclusive Customization available at affordable rates
Further theme development – you'll get all future upgrades of Aerotronic!
Theme Package Aerotronic Premium: $65.00

Buy the Aerotronic Premium Theme