I collected all the Quality Free Premium WordPress Themes that appeared in These days, and I decided to make a list with short descriptions of the most performance and qualitative themes . Which is all i'm doing, you can see more Featured themes, I hope to continue this series of Quality Free Premium WordPress Themes every month.
LightSource Theme
LightSource is a new theme from ElegantThemes with an unique concept which was designed for traditional and personal blogs. This theme is available in three unique color schemes and has integrated a lifestream plugin that can aggregate information from various social media websites.
Blog Theme
BlogTheme is the newest theme from WooThemes premium wordpress theme design, which was received through WooContest and has been designed specifically fo personal bloggers who like a simple and clean blog design. This theme is available in 5 colour styles and it is the cheapest theme from WooThemes.
Jynxed Theme
Jynxed is another simple and clean WordPress theme with a lot of features like: cross-browser transparency, beautiful ajax tab area in sidebar and an unique web 2.0 design.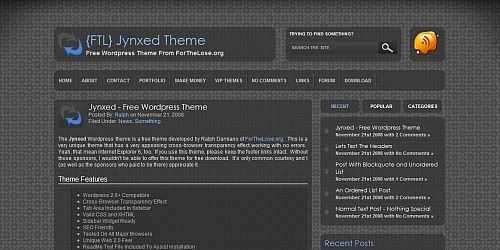 Insider Theme
Insider is definitely one of greatest free WordPress theme. This is one of the best multimedia theme which can turn your blog into a media share site, because it has custom templates for videos, picture galleries, and news.
Matatag Theme
Matatag is a well-designed theme which has a structure very well arranged and also include a featured post gallery.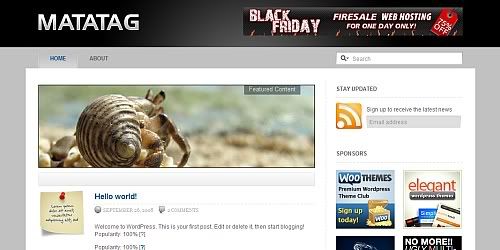 Absynthe Theme
Absynthe is the first WordPress theme released by Six Revisions, designed by Chris Wallace. This theme has a lot of features and an unique design, with Last.Fm and Twitter integration.
Annexation Theme
The second theme released by Six Revisions, has a proffesional look and almost the same features as previous theme released by them Absynthe Theme.
WildDreams Theme
Even this theme's design is very beautiful and at the same time with a strange frog with the smile of a man, I hope someone will find this theme useful.
Chrome Milk
Chrome Milk is definitely one of my favourite theme. Theme presented by WP-iStalkers Project is different from the rest of themes because of many unique features and a lot of integrated plugins like two different styles for day and night time.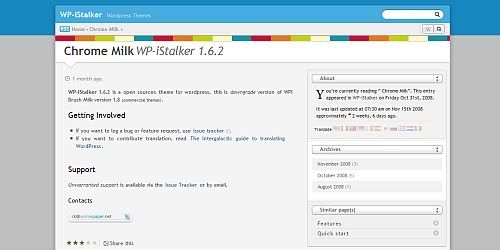 /