This is a clean WordPress template capable of displaying large amounts of content without suffering aesthetically nor functionally. Adverisement arealy. Three Column Theme .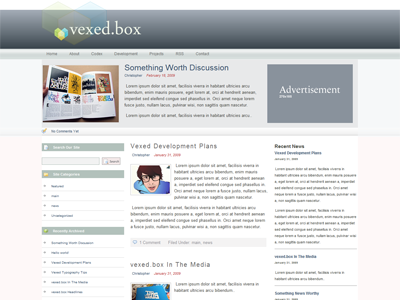 FREE!
Valid XHTML 1.0 Strict
Valid CSS Level 2.1
Post images to the index page dynamically
Gravatar support
WordPress 2.6.3+ ready — Should work just fine in any future releases of WordPress. Already tested in WordPress 2.7 "Coltrane" and WordPress 2.7.1
2 Widget ready sidebars
Features a 'sticky' post section above all of the other posts on the main page.
Page links created dynamically as you create them in the admin panel
Trackbacks are seperated from normal post comments and can be styled to your liking.
2 Functioning Headers for flexibility.
.PSD files included.
View The Live Page Demo | Download vexed.box Now