Today , i find My blog WebaAoutMoney's wordPress Theme have five month old and have no advantages at this time, and Google has did PageRank update, But I have no PR, So i decised to change againe for more better in the future.
I find out many free wordpress themes in my blog, but no one I like best, after a while, i search a new theme CappuccinoV2, afree wordpress themes. it has 3 columns. The theme is WordPress 2.6.x compatible and it's widgetized. It is a money maker theme. The 125×125 sidebar ads have ready and can add many affiliate marketing programs, also for adsense ready.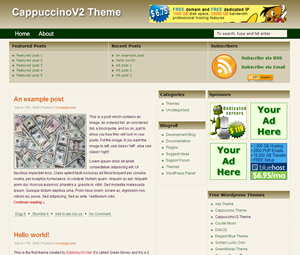 It contains above the content Popular post or Featured posts and Recent posts. The subscribing section is also above the fold and it is "very" visible. For the Popular posts you have to install the Popularity Contest plugin, which you can find it in the plugins directory from the archive. But if you don't want to install this plugin, in that box will be displayed your Featured posts, which you have to edit them.
View a live demo of the CappuccinoV2 theme.
Download the CappuccinoV2 theme.