The SoulThemes have released the CSS Gallery Style WordPress theme called WPTheme Affiliate Theme, Any one who can use he theme quickly build a theme affiliate based website to promote premium and free web themes allowing you to easily earn commission from theme developers affiliate schemes.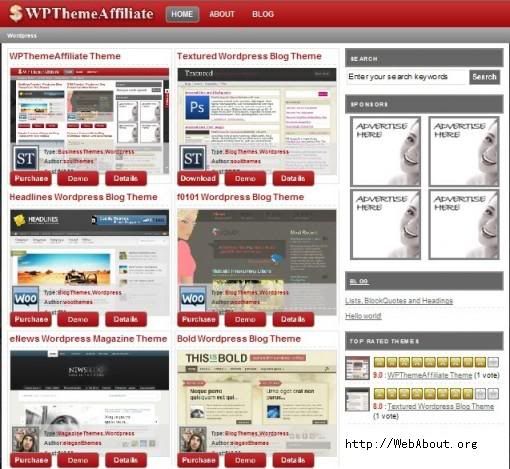 Features:
Custom Post Write Panel For Adding Affiliate and Free Themes.
Themes Options Page.
Automatic Thumbnail Resizing.
Uses GoCodes Plugin For Affiliate Link Redirection and Click Stats.
Integrated With GDstarRatings Plugin So Themes Can be Rated By Visitors.
Customized Sociable Plugin "Sociable Mini" For Social Bookmarking.
Custom Related Themes Layout On Theme Pages Using YARRP Plugin.
Separate Blog and Theme Sections, Configurable From Theme Options Page
Custom Theme Author Page Layout For Displaying Theme Developers
5 Colour Schemes, Default Red, Light Blue, Gold, Chocolate and Lime.
Three Separate Widget Enabled Sidebars, Default, Blog Sidebar and Theme Page Sidebar.
Integrated 125×125 Banner Advertising Management and Widget.
Price: $49.99
Go yo download WPThemeAffiliate Theme
Not sale againe, You can choose the Art Gallery ThemeFuse WordPress Art Gallery theme.