Markted Theme is a business, cms style wordpress theme. It comes with a special strucuted homepage that is fully customizable without editing any file, with a settings page right in your WordPress Dashboard from where you are able to edit all are you see and read here on homepage, you can change the logo, enable / disable features, add / remove butons and a many features of this kind.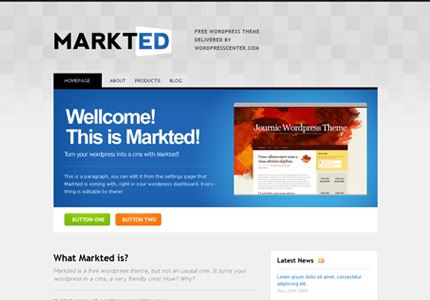 keep your eyes on OneThemePerMonth.com. Markted Theme is released this week,
Settings Page : One feature that all OneThemePerMonth.com themes are coming with is the settings page. For Markted settings page is essential, because it's the place where you can edit, enable/disable or manage all features this theme is coming with.  
PSD Included: Markted is coming with the original, optimized .psd photoshop file, so if you have photoshop and a minimum of design knowledge you are able to create an original version.  

Custom Homepage: You can enable or disable the custom homepage. If enabled, you will need to fill out the content of it, and this without editing any file, just from your settings page.  

4 default color schemes: Markted is coming with 4 default color schemes changable from the settings page. Adding to this you have the .psd and combined with your own creativity you can get unlimited variations.  

Threaded Comments : Threaded Comments is one of the latest features that WordPress is coming with since version 2.7. Markted comes with a blog section that has all features for a usual blog.  

Ads Management: On Markted there are up to 6 125×125px spots in your blog sidebar. You can edit, move and manage the advertising spots right from your settings page.
The theme is sold during that month for only $15!
When the month is over the price grows to $30 and a new theme comes.
Live Demo : Markted Theme