I have received an payment ($4.00) from teliad.com when the end of month, the last day of year 2008. I surprised when i get the money,  Because it's another new program that already paying me yesterday after i join it for three month. For my blog ,it has no PR, but I also selled Private Links With Teliad.com.
I guess, nothing wrong if i share with you  Its still new to my country people, but i guess, nothing wrong if we give our try to this program. That program was called Teliad.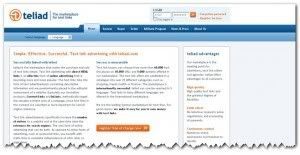 I believe if you notice at google ads, you will see Teliad advertisement. It show at many ads. I wonder what kind of program of Teliad. So, i just go and try. Its paying us for many thing like for blogroll, for text link ads and many way. Teliad also run affiliate program and you can earn from that way.
When i submit my site, they will review our blog or website first. Then, after our site already submit into teliad marketplace, advertiser will see our site. So, if any advertiser interested to buy any text link or inlinks or blogroll at our website, they will pay to teliad and Teliad team will do the rest. We will be paid at the end of month. 
The good thing is Teliad was open for international even their really leading for German marketplace text link. So, i guess it can't help. I will try this program. But not in this website, at others site of mine. I believe i will manage to earn some dollar every month soon. This is good adsense alternative program after all. What do your mind?
So, if you want to try, just go and try without worry. Register Teliad now