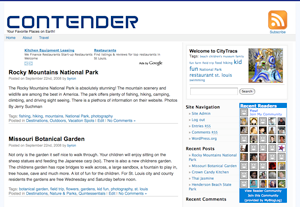 Contender was built with SEO and speed in mind.  A lot of the new theme platforms today give you tons of flexibility, but that can come at the price of extra includes and queries.  Contender tries to give you what you need with a minimum of fuss.  Check out the readme.txt file in the download for tips on how to further customize the theme. It is under the GPL for your blogging pleasure.  There's no need for a demo site.  What you're seeing here at WhyPad is pretty much what you get in the download.
Theme Highlights
3 Columns (2 right sidebars)
Widget ready for 2 sidebars
AdSense ready (just add your AdSense code to included files)
Easy to switch to Gravatar for the top info box on the sidebar (just uncomment the code and comment out the other photo)
Licensed under the GPL
You can remove the footer link back to WhyPad, but it'd be nice if you left it.
Download: Contender WordPress Theme.