SuperPress is a modular WordPress theme that gives you the choice to completely change the way your blog looks simply by activating or de-activating a module, 8 colour options, Search Engine Friendly.  Perfect for Multi-Author Blogs and Personal Blogs.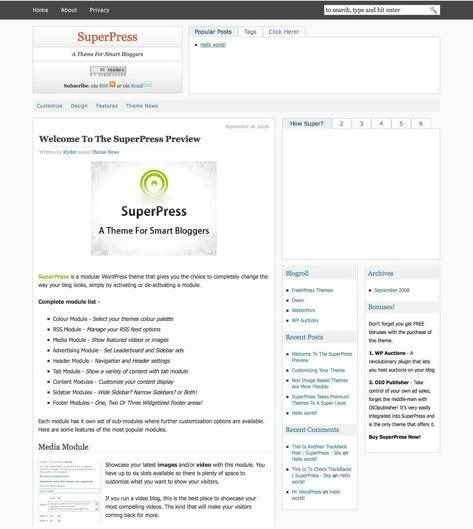 The theme can be customized to fit any bloggers need with it's wide array of modules, easy to use admin interface provides you all the necessary tools to customize your blog without editing any code.
Complete Module List:
Colour Module – Select a colour palette
RSS Module – Manage your RSS feed options
Media Module – Show featured videos or images
Advertising Module – Set Leaderboard and Sidebar ads
Header Module – Navigation and Header settings
Tab Module – Show a variety of content with tab module
Content Modules – Customize your content display
Sidebar Modules – Wide Sidebar? Narrow Sidebars? or Both!
Footer Modules – One, Two Or Three Widgetized Footer areas!
Choose from 8 colour options. If that's not enough and you know a bit of CSS you can easily make your own custom colour palette. Just grab the custom CSS colour file and edit away.
SuperPress will be adding more colour options to its palette database on a recurring basis. All future updates will be provided free to buyers.
Also you can purchase the SuperPress HTML theme available now – http://themeforest.net/item/superpress-theme-businessportfoliomagazine-html/105309