The Microsoft's new search engine: Bing (http://www.bing.com) is now online. According to Microsoft, Bing is a decision engine that goes beyond search to help customers deal with information overload. Really? checked Bing out.
Microsoft claims that Bing will deliver a more functional experience than any other search engine and will help you make smarter and faster decisions. So, I tested it today.
1. First of all, Bing's home page to picture as a background, search box also unconventional layout of the center.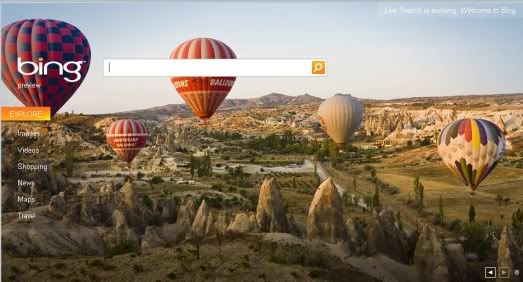 2. At present, the introduction of the search function Bing, including Web search, image search, video search, information search, map search and the popularity list.
3. By the time of Bing search out: The search results looks good with related searches displayed on a left sidebar. Also there is auto suggestion when you type in your search terms, compared to Baidu, as well as the relevance of Google search at the bottom of search results, it is clear that Bing's more friendly navigation.
4. Bing delivers search results tailored to the part of the world you are living. Note that, features like search history and cash back are not displayed in all regions. So, if you want to use all the features of Bing, you must use the English – US version, which you can set on this page. Also there is a preferences page where you can set your preferred language, web content filters, number of search results per page and enable or disable search suggestions.
5. Bing's picture, or very powerful search capabilities, including the size of the picture, layout, color, style, choice of characters, but, Bing is not the image search results page, this is not a Bug?  See the picture.
6. Bing preview video search can also be based on length of video, video screen size, video resolution, as well as the source of video to do the search filter. See the picture.
In general, Bing, or give us more or less a pleasant surprise, it is too early to say about Bing's performance and the quality of it's competition with Google, I also hope that the search engine can do Bing getting better and better.