It's a Multi Column (1 sidebar, 2 main content colums, 2 right hand sections and 3 footer sections all widgetized) fixed width theme loosely inspired by the art galleries of Soho New York and is perfect for a showcase/portfolio or scrapbook type site. It features an author info page and gravatars along with Custom Archives, Sitemap, Blog Post and full width No Sidebars page templates. Tested in Firefox, Opera, Safari, IE6 and IE7. Compatible up to WordPress 2.7 and is XHTML 1.0 Transitional and CSS 2.1 valid right out of the box.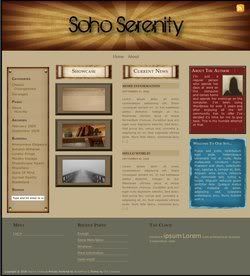 Demo | Download: Soho Serenity | Theme info
SETUP INSTRUCTIONS:
1. Go into Admin >> Appearances >> Editor >> index.php and find these lines (there are 2 sets – 1 for the left colum and 1 for the right column:
php query_posts('cat=1&showposts=3′);
php $posts = get_posts('category=1&numberposts=3&offset=0′);
Change the category ID number (in 2 places) to the category you want to display. You can also change the number of posts that are shown (also in 2 places) although for asthetics 3 in the left column and 2 in the right column is recommended.
2. To change the headings of the main content columns go into Admin >> Appearances >> Editor >> index.php and find this line (2 places) and change the text between the < h3>< /h3> tags:
< div class="title">< h3>HEADING< /h3>< /div>
3. To have the images show up in the left hand content column you'll need to install the Get The Image plugin created by Justin Tadlock